For your convenience, here is a list of all National Parks in Florida..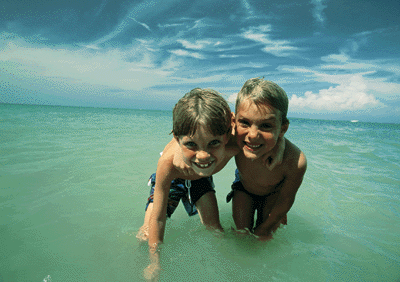 ---
PERDIDO KEY
Just a couple of miles from the Alabama border, you will find the Perdido Key State Park, where you can relax, fish and enjoy the pristine white sandy beaches. The Perdido Key Chamber of Commerce has a visitor center at 15500 Perdido Key Drive. Call them at 1-800-328-0107 for further information.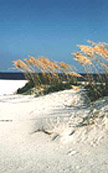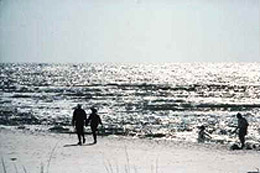 BOTH PICTURES SHOW THE PERDIDO KEY AREA
Big Lagoon State Recreation Area is a 698-acre park located on Perdido Key, and offers ample recreational opportunities. Big Lagoon is not to be confused with Perdido Key State Recreation Area, a 247-acre beach park. The Florida Parks Service operates 28 parks in Northwest Florida alone, with four of those in Escambria and Santa Rosa counties. On their website, they offer detailed parks information about all of their Northwest Florida parks.
The Lost Key Golf Club is a fairly new (April, 1998) 6,810 yard golf-course in a beautiful setting on Perdido Key. A must for serious golfers.
---
GULF BREEZE
Gulf Breeze is located on the intracoastal waterway, just north of Pensacola Beach. With just 6,000 residents, it has a small-town feel to it. Be careful when driving here, AAA has issued an advisory basically calling the City of Gulf Breeze overly aggressive traffic enforcers. They want your money....in the worst way. Stay on Pensacola Beach instead.
Just east of Gulf Breeze is Naval Live Oaks, which according to the Florida Game and Fish commission is one of the two best areas to view wildlife in the State of Florida.
---
NAVARRE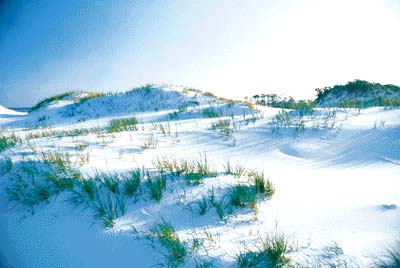 Sand dunes on Navarre Beach
Also located on the very long Santa Rosa Island, Navarre is located half-way between Pensacola Beach and Fort Walton Beach. It's powdery, white sand dunes are a unique visual experience and great to walk around in.
The Navarre Nature Walk Park, located near the Navarre Beach Bridge along the Santa Rosa Sound, is a one-mile waterfront boardwalk that includes a spring-fed fish pond, a fun themed playground, a hand-tile wall, a butterfly house, as well as picnic and recreation areas.
For further information, contact the Navarre Chamber of Commerce.
Short history of the Pensacola area: Native Indians have lived in the area for 300 years. Pensacola Bay was discovered by the Spaniards in 1516, but forgotten after an abortive settlement in 1559. Rediscovered in 1686 and named after the Panzacola Indians, the area was finally permanently settled by Westerners in 1698 and the City of Pensacola established.
Spaniards under the command of Andres de Ariola built a fort at the location of the present-day Naval Air Station. Prior to Florida becoming part of the U.S. in 1821, Pensacola was at various times held by Spain, France and England. During the Civil War, it was held by Confederate troops. Pensacola has grown around it's Navy Yard, which later became a Naval Air Station.
---
Other useful websites include: City of Pensacola, the Navarre Beach Area Chamber of Commerce and the local tourist board's website.
---