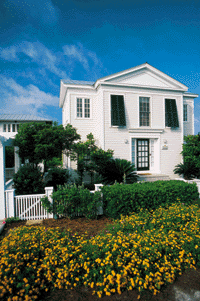 The names of places in the Panhandle can be confusing at times: the "Beaches of South Walton" is the southern part of Walton County....which does NOT include Fort Walton Beach. It does include places like Sandestin, Seaside, Grayton Beach, Rosemary Beach and Santa Rosa Beach....Santa Rosa Beach is incidentally NOT in Santa Rosa County.

For attractions in the Florida Panhandle, see our attractions section for attractions links.

Seaside is perhaps best known as the location of the 1998 movie "The Truman Show". Seaside is a totally planned community, with local ordinances designed to ensure a uniform overall appearance. "Seaside" is even a registered trademark, belonging to the

Seaside Community Development Corporation. Although intended as a living community, Seaside today is a resort - most owners do not live there. Which means that there are plenty of accommodations to rent !




The

Seaside Swim & Tennis Club offers tennis, swimming pools, croquet, bicycles rentals, shuffleboard and more. They also offer a children's program called Camp Seaside, a five and a half hour program. There are plenty of events at all times in Seaside.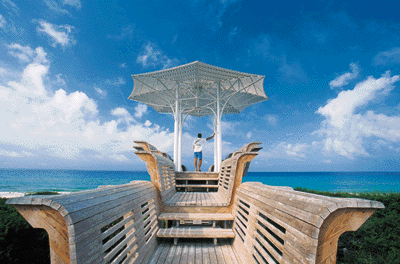 The essence of Seaside...
With all this talk about Seaside, you would think that Grayton Beach is the poor cousin. Not at all !! Grayton Beach was once rated as the #1 beach in the country by "Dr. Beach" (a.k.a. Dr. Stephen Leatherman). Not anymore...but it is still a fantastic beach, with powdery white sand that makes you think you are walking in snow.
Rosemary Beach is another planned community, sporting about 490 homesites upon completion. It also appears to be drifting towards being less of a full-time community and more of a part-time community, as roughly 1/3 of all homes are for rent in Rosemary Beach.
---
Walton County, now home to over 40,000 people, has been inhabited for at least 3000 years. Artifacts dating to 1,000 B.C. have been found in the Grayton Beach area. More recently, from the 15th to the 19th centuries the Choctaw Indians and the Euchee Indians of the Creek Nation, populated the area. Throughout the county, Indian middens, including one that is carefully preserved at Sandestin, have become valuable archaeological sites.

Walton County was created in 1824, soon after the United States acquired West Florida. Throughout Walton County's history, farming has been the chief occupation of the majority of Walton County residents. The area's most important staple crops are corn, soybeans, peanuts, wheat, sugar cane, sweet potatoes and forage crops. Tourism is becoming an increasingly larger part of the economy for every year that passes.

Need more information? The

South Walton Tourist Develoment Council and the Walton County Chamber of Commerce can provide more information.

Information is continuously added to this site.