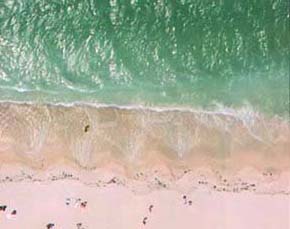 Photo courtesy of Aerial Innovations, Inc.
A day at the beach - seen from above. Beach Directory invites you to discover the wonderful Florida Gulf Coast. If you love beaches and coastal areas, you have come to the right web site, and the right part of the world.
The Florida Gulf Coast is home to 5 of the top 20 beaches in America, as rated by coastal researcher Dr. Stephen Leatherman, a.k.a. "Dr Beach". We are also home to everything from quaint towns like Seaside (as seen in the movie "The Truman Show") to well-known vacation destinations like Clearwater Beach.