The Florida Gulf Coast
A virtual tour by Beach Directory
Manatee & Sarasota counties
Once across the Sunshine Skyway Bridge (toll=$1), head west for the coast. Anna Maria Island is the home of three towns: Anna Maria, which is tranquil and laid-back, and the busier towns of Bradenton Beach and Holmes Beach.

Whether you want to relax, shop, beach out, or eat at a waterfront restaurant, Anna Maria Island offers a little bit of everything.

See the Anna Maria Area section of our site for more information.





Anna Maria Island: miles and miles of beaches, all on one island




Photo courtesy of Aerial Innovations, Inc.
Longboat Key straddles the Manatee / Sarasota county line, and is home to 6,000 people, mostly retirees. The island is just over 10 miles long, and is very well-kept and upscale. Visit the comprehensive Longboat Key Chamber for more information.

Next stop: Sarasota County, home of beautiful City of Sarasota, renowned St. Armands Circle shopping center (with over 100 shops and boutiques), and Florida's largest state parks: Myakka River State Park. This is one of Floridas best parks - you can get close to wildlife, go hiking, canoeing or just enjoy the wonderful setting.

Sarasota bills itself as the "Cultural Coast". The John & Mable Ringling Museum of Art, the Marie Selby Botanical Gardens and the very active Sarasota Arts Council are certainly strong evidence of that claim. Many consider Sarasota to be the cultural capital of Florida.
Ringling Museum of Art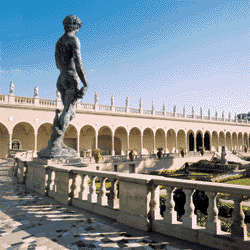 Canoeing in Myakka River State Park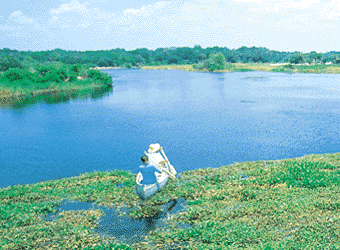 Our site does not cover Port Charlotte, Charlotte Harbor and Punta Gorda because they are not on the beach.However, ifyou are in that area and you are interested in nature, head out to Babcock Wilderness Adventures. Don't be scared by the roaring big cat pictured on their site....it is the gators you should be afraid of !
An eco-tour in a swamp buggy at
Babcock Wilderness Adventures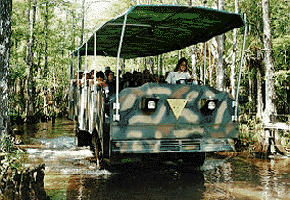 Fishing in Charlotte Harbor
Great fishing in clear, clean waters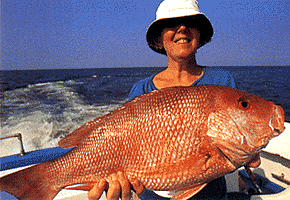 Photo courtesy of the
Charlotte Harbor Visitors Bureau
---
Return to the Beach Directory main page
---