By the "Anna Maria Area", we mean the towns of Anna Maria, Holmes Beach and Bradenton Beach. Anna Maria Island is connected by a bridge to Longboat Key, which is covered in our Sarasota Area section.
There is a live webcam streaming 24 hours a day from Beach Bistro, and another one at Cedar Cove Resort. Both are located in Holmes Beach. Caution: frozen northerners caught in a blizzard may be reduced to tears by these beach cams!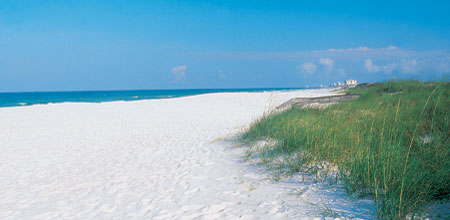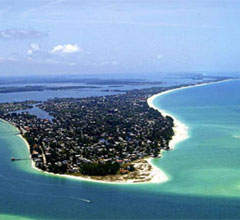 Above Left: Some of Anna Maria Island's beautiful coastline. Right: Aerial view of the island.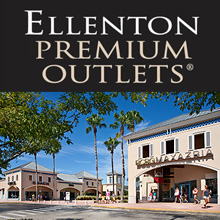 Anna Maria Island still has a small-town feel to it unlike many other places in Florida. From north to south, it is only seven miles, but it divided into three separate towns: City of Anna Maria (approx. 1,750 residents), the City of Holmes Beach (approx. 4,300 residents) and the City of Bradenton Beach (approx. 1,300 residents).
At the south end of the island, you will find Coquina Beach County Park, a mile-long public park with free parking and lifeguards. Great for travelers on a budget, who can't afford beach-front accommodations, and great for those who perhaps feel reassured by the presence of lifeguards.
We want to also mention VOTA, Village of the Arts, in Bradenton. It is a small area in downtown Bradenton where over 30 artists can be found within walking distance of each other. There is a once-a-month Art Fest, but you can visit at any time.
VOTA is a true grass-roots effort that is worth seeing and appreciating. It is operated by the Artists Guild of Manatee, which was formed in 1999 as a non-profit with a mission to build VOTA as a community where artists live and work.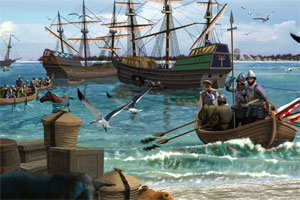 The mission of De Soto National Memorial, a National Park, is to commemorate Spanish explorer Hernando de Soto. With an army of 600 soldiers, hired mercenaries, craftsmen, and clergy, de Soto came to the new world in 1539 with a license from the King of Spain to explore, colonize and pacify the Indians of the area known as "La Florida".
Programs at the De Soto National Memorial explain the prevailing 16th century Spanish cultural values and the inevitable clash with the native cultures the expedition encountered. It is also a beautiful natural setting, with the largest species of Gumbo Limbo tree in North America.
Located on the Manatee River waterfront and taking up an entire city block in downtown Bradenton, The Bishop Museum of Science and Nature is a unique educational and entertainment resource where you can experience Florida from "Astronomy to Zoology" all under one roof! Attendance to the Museum, Planetarium, and Aquarium grew from 30,000 visitors in 1979 to several hundred thousand per year now.
For additional attractions, see the Anna Maria / Sarasota section of our attractions page.
For additional relevant Anna Maria Island links, click here.
Please refer to the Beach Directory accommodations section for some excellent lodging providers. They make this site possible!