Fort Myers Beach, also known as Estero Island, gets very busy in February and March, as snowbirds, college students, and locals all congregate. The permanent population of 6,000 swells to 40,000 to 50,000. Expect slow-moving traffic! If you want sophistication, visit Sanibel Island - if you want action, come to Fort Myers Beach.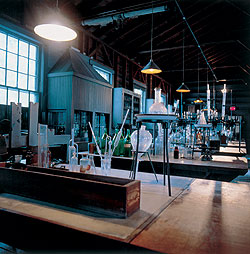 For those history buffs, the Fort Myers Beach area is home to Mound House, located on a 2,000 year old Calusa Indian Shell Mound. Also, tour the winter estates of Thomas Edison and Henry Ford. These grand homes offer 20 acres of botanical gardens, nine historic buildings including Edisonís Botanic Research Laboratory. The Estates Museum contains an impressive collection of inventions, artifacts and special exhibit galleries.
The Town of Fort Myers Beach was incorporated on December 31, 1995 - perhaps the fact that it is a new town explains why they are so "with it". Their website has a lot of useful information, including a detailed history of Estero Island. The Fort Myers Beach Observer is published on Wednesdays, but does not have an on-line version.
You can order a FREE vacation guide from the Fort Myers Beach Chamber of Commerce.
While in the area, do take the time to visit the Everglades. Don't miss the quaint village of Everglades City, as well as Ochopee Post Office, the smallest in America. Also, even if you hate outdoorsy things, head out on an airboat in the Everglades - it is a one-of-a-kind experience that cannot be found anywhere else in the world.