Where to Stay in
Redington Beaches, FL



FEATURED PROPERTIES (complete property list below)













ALL PROPERTIES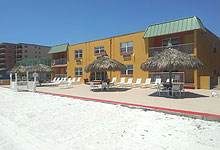 Far Horizons
17248 Gulf Blvd.
North Redington Beach, FL 33708
Phone: (727) 393-8791
Fax: (727) 391-3980



Directly on the beach
Far Horizons is located directly on the beautiful white sand beaches of the Gulf of Mexico. We offer comfortably furnished studio efficiencies.

---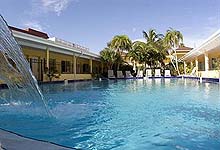 Hotel Sol
17566 Gulf Blvd.
Redington Shores, FL 33708
Phone: BOOK ON-LINE!
Reservations: (888) 455-6055

Boutique Hotel directly on the beach
40 air-conditioned rooms with kitchenettes, refrigerators, microwaves, coffee/tea makers, Large flat-screen TV:s ceiling and much more. Housekeeping is provided daily. We also have a picnic area, barbecue grills and hammocks on the beach. Relax at Hotel Sol!

---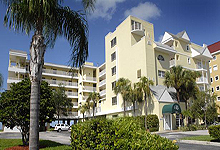 Redington Ambassador
16900 Gulf Blvd
Redington Beach, FL 33708
Phone: (727) 391-9646
Fax: (727) 397-3401



Beachfront from $540 per week - great for families !
All units have balconies overlooking the Gulf of Mexico and fully equipped kitchens. Heated pool, hot tub, gas barbecue grills and shuffleboard courts. Redington Ambassador is offered exclusively by FDA management.
We also have several other nearby properties, such as Sutherland Crossing Resort in Crystal Beach. Located on St. Joseph Sound and with private tennis courts, Sutherland has great rates during high-season and value-season for a 3-bedroom unit.

---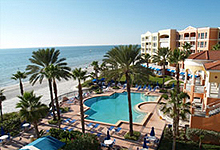 Resort Rentals
8010 Blind Pass Rd.
St Pete Beach, FL 33706
Phone: (727) 363-3336
Fax: (727) 360-5086
Reservations: (800) 293-3979

Choose from over 100 beach front condos!
Resort Rentals offers a wide selection of waterfront vacation rentals - condos and private homes. All of our units are conveniently located either directly on the beach or on the bay and are fully equipped. Some of our properties in the Redingtons are Emeralds Isle, Sunset Villas and Tides Beach Club. We also offer properties nearby, such as Villa Madeira, Arie Dam, Trillium and Land's End, which is surrounded by water on three sides. All of our beautiful private homes are water front pool homes. Pick your favorite location on the West Coast of Florida - St Pete Beach, Treasure Island, Madeira Beach, the Redington beaches or Indian Shores. Please see our detailed and easy to navigate website or call us toll free!

---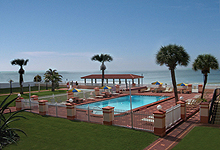 Sails Resort
17004 Gulf Blvd
North Redington Beach, FL 33708
Phone: (727) 391-6000
Fax: (727) 391-6000



Directly on the Gulf - beautiful pictures. Internet specials.
We offer 1 & 2 bedroom apartments, as well as efficiencies and motel rooms. Enjoy our 20´x40´ heated swimming pool and our 200 feet of beachfront - the largest in the area. Look for the special Internet discount on our site.

FREE high-speed Wireless Internet Access now available!

---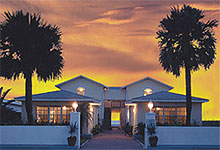 Sand Glo Villas
19316 Gulf Blvd
Indian Shores, FL 33785
Phone: (727) 320-9720
Fax: (727) 517-4197
Reservations: (800) 816-1970

Modern newer villas directly on the beach - pets welcome
In neighboring Indian Shores (the next town north), you will find this gem of a property which is #1 by Tripadvisor We know you want to be close to the beach - is "right outside your door" close enough? Four of the six villas face the beach directly.
Sand Glo offers something very unique: a small, intimate private setting with great atmosphere. Small pets welcome with prior approval (extra charge). Must see pictures to appreciate!

---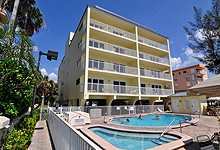 Suncoast Vacation Condos
We have many properties along
the Gulf Beaches....

Phone: (727) 360-2750
Fax: (727) 397-3401



Enjoy the beautiful beaches of Pinellas County
Our beautiful, fully furnished vacation ownership condominiums provide you with everything you need except your toothbrush. Our properties include Hideaway Sands in St. Pete Beach, Bay and Beach Club in Indian Shores, Jamaican on the Gulf in Treasure Island, Commodore Beach Club in Madeira Beach and Redington Ambassador Resort right here in N. Redington Beach. With our twenty years of experience, you may arrive a stranger but will leave a friend.

---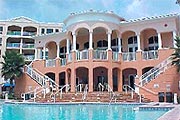 TRS Vacations Rentals
16401 Gulf Blvd.
Madeira Beach, FL 33708
Phone: (727) 393-3425
Fax: (727) 398-5730
Reservations: 800-237-6586

Vacation beach resort rental specialists
We have more rental units than anybody else on the Tampa Bay Beaches and offer a Total Concept for all of your vacation needs. Whether directly on the beach, or across the street, we have it all ! Just some examples of our properties: Vistas on the Gulf, Gulf Strand Resort, Sea Breeze, Madeira Norte and many more.

---


Search Beachdirectory.Com using Google (in the box below):
---
Return to the Beach Directory main page
---
Entire site, © 1999 - 2019 Logical Sites, Inc.
Website terms of use, copyright notices, privacy policy and other legal notices