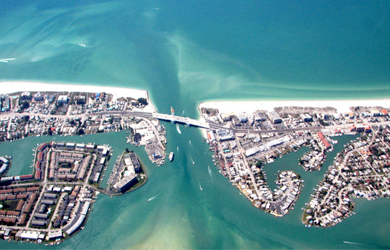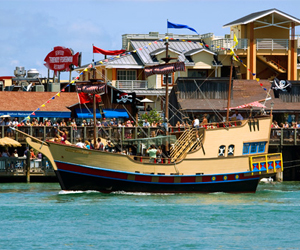 John's Pass, looking north and an aerial view of John's Pass and Madeira Beach.
Madeira Beach, located halfway between St. Pete Beach and Clearwater Beach offers a quieter alternative to these more populated beaches, making it an ideal vacation spot for the entire family.
Family members of all ages will enjoy shopping, eating, and the various other activities available at John's Pass Village, a main attraction of Madeira Beach. With more than 100 unique shops, you could spend the entire day searching for that perfect souvenir!
Those who prefer sightseeing from the water's edge can take a walk down the 1,100-foot waterfront boardwalk overlooking the intercoastal waterway, where you can see dolphins, pelicans, bald eagles and even an occasional manatee!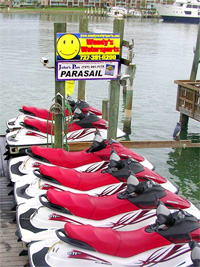 In addition to all the daily activities at John's Pass Village, be sure not to miss seasonal events such as the Annual Johnís Pass Seafood Festival, held the last weekend in October, where you can join more than 100,000 other people in celebrating the "Grouper Capital of the World." Enjoy the area's fresh local grouper while listening to live entertainment and seeing the local talent in the arts and crafts show.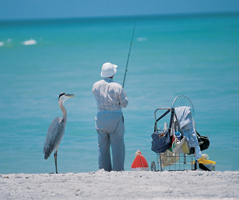 If you're visiting Madeira Beach during the holidays, be sure not to miss the village's transformation to a Christmas scene complete with Christmas tree lighting and Tropical Santa Claus photo opportunities for the kids.
Looking to get some sun? Cross the street from John's Pass Village to John's Pass Park where you'll find plenty of sandy beaches on which to relax. Other public beach parks in Madeira Beach include Archibald Beach Park, County Park, and Kitty Stuart Park, all on Gulf Boulevard.
Madeira Beach prides itself on its clean streets, quiet neighborhoods and superb police and fire protection, making it great place for tourists and residents alike.